February 23, 2018
UnionSPACE Collaborates with Australia to Improve Fintech Industry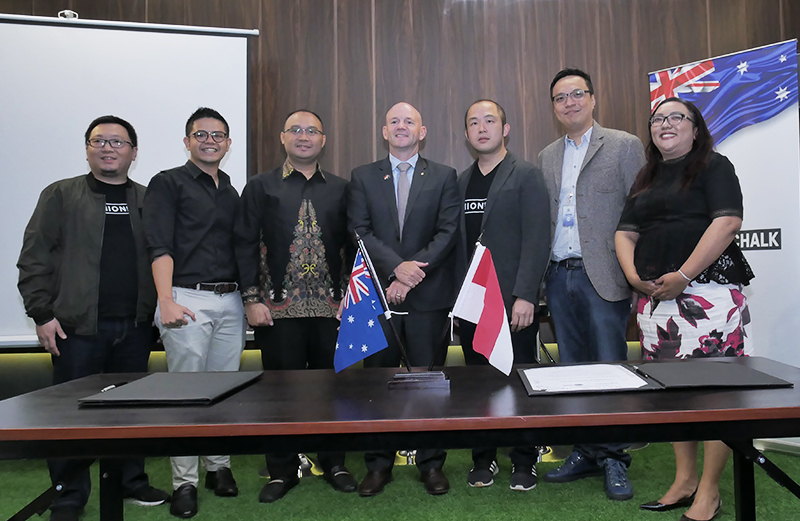 Jakarta - To strengthen the business relationship between Indonesia dan Australia, co-working space provider, UnionSPACE signed a partnership agreement with fintech co-working space from Australia, Stone & Chalk.
UnionSPACE CEO, Albert Goh stated that the partnership between two big co-working space providers aims to facilitate fntech in Indonesia and Australia to improve the business quality and expand all around Southeast Asia and Australia.
"With the rise of fintech industry and the huge amount of fintech startups, UnionSPACE feels the need to reinforce the fintech communities in the region. That's why we collaborate with Stone & Chalk from Australia to support business growth and quality of fintech," said Albert Goh after the signing of MoU in Centennial Tower, South Jakarta, Friday (23/2).
Albert explained that UnionSPACE and Stone & Chalk are committed to support each other's members in terms of giving access to each own co-working spaces. UnionSPACE will encourage its members to visit Stone & Chalk in Australia and vice versa.
This collaboration will also connect all members of both parties to Venture Capitals to be able to pitch and raise funds from thse Venture Capitals as well as other investors.
"The intention is so that our members can build their network in the visited country, and also learn about entrepreneurship and fintech for the betterment of their business," Albert said.
He added, currently, UnionSPACE dedicates itself to building the best business ecosystem in Southeast Asia. UnionSPACE is known to have served entrepreneurs in 5 locations in Jakarta, 3 locations in Manila and 1 location in Kuala Lumpur, fulfilling business needs for more than 24,000 entrepreneurs who want to expand their business all over Asia.
Both UnionSPACE and Stone & Chalk hope that fintech community and the quality of fintech business in Indonesia Australia can grow and benefit the society. In the future, other countries are expected to be able to join the force and collaborate for the greater good.
The signing was witnessed by The Hon. Niall Mark Blair, MLC, Australian Minister of Trade; Dr. Anggawira, ST, MM., Head of BPP HIPMIOragnization Division, Andy Zain, Founding Partner of Kejora Ventures, and M Ajisatria Suleiman, Executive Director of Indonesian Fintech Association.