March 21, 2018
The Largest Co-working Space in Asia is Ready to be Built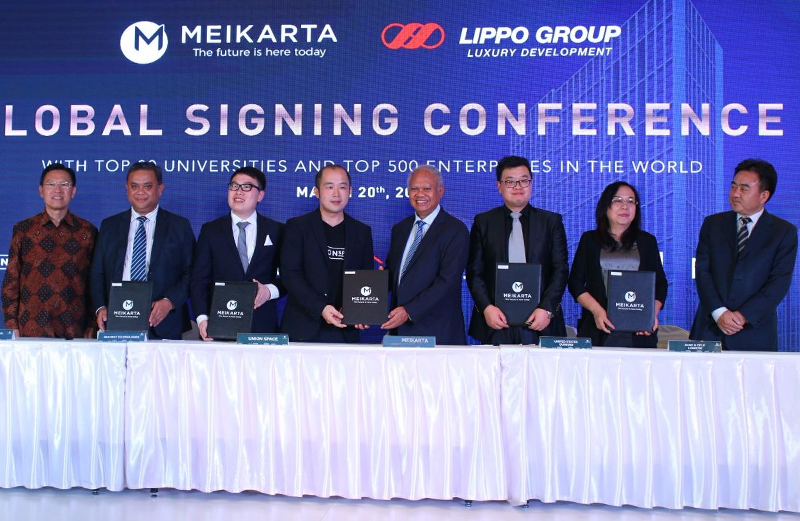 Talking about the biggest residential area in Indonesia, one must think of Meikarta. Meikarta is not only the largest residential area, it is also the center of economic growth in Indonesia. Being in the market for less than a year, more 130,000 people has signed up as buyers of the massive project.
Meikarta is seen as the solution for over population in Indonesia which seem to be centralized in Jakarta. The massive residential area will have its own schools, universities, hospitals and central business district. This massive residential project is overseen by the biggest real estate development company in Indonesia, Lippo Group.
In the near future, Meikarta will be the international center with high quality human resource that support the economic growth of Indonesia, and in the spirit of that, Lippo Group officiated partnership with nine global companies from USA, UK, Singapore and China (20/3).
One of the companies that signed the partnership with Lippo Group in Global Signing Conference, was UnionSPACE, the largest co-working space in Southeast Asia and the largest entrepreneur hub in Indonesia. UnionSPACE has served more than 24,000 entrepreneurs all over Southeast Asia including Indonesia, Malaysia, Philippines and Bangkok.
With this partnership, UnionSPACE and Lippo Group will build the largest co-working space in Asia that will facilitate entrepreneurs with first class work space and opportunities to expand their business all over the world.
The Founder and CEO of UnionSPACE stated that the co-working space will separate each industry in different floor. For example, fintech industry will have its own floor, insurance tech and property tech will also have different floors.
"We're not only building generic co-working space, but we will give special floor for each industry that serve as the foundation in Meikarta," said Albert.
Other than specialized co-working space, the US$20 million project will provide common space where people from different background of industry will hang out together and create breakthrough for the economy.
The CEO and Business Development Officer of UnionSPACE had the chance to meet the CEO of Lippo Group, James Riady and take a picture together. James Riady said that Lippo Group established pertnerships with global companies to build not only residential area, but to create life and enhance the quality of the society.